Description
What is a Charge Controller?
The purpose of a solar charge controller is to take power generated by a solar panel array and regulate the incoming voltage and amperage to a more appropriate level to charge a battery bank.
The Victron SmartSolar MPPT 250|85 can regulate a solar array with an open circuit voltage of up to 250V down to charge a 12V, 24V, 36V, or 48V battery bank at a max rate of 85A, giving great flexibility when designing a solar array.
Solar Production Monitoring
The Victron SmartSolar line of MPPT Solar Charge Controllers all have Bluetooth capability, which allows you to view solar charging data, both current and historical, from your phone, tablet, or computer via the VictronConnect app.
If your electrical system uses a Victron GX Device like the Victron Cerbo GX, the Cerbo GX can display the data from the SmartSolar charge controllers on a local display screen like the Victron Touch 50 GX or connected to the internet to be displayed remotely, anywhere in the world, via the free Victron Remote Management Portal (Victron VRM Portal).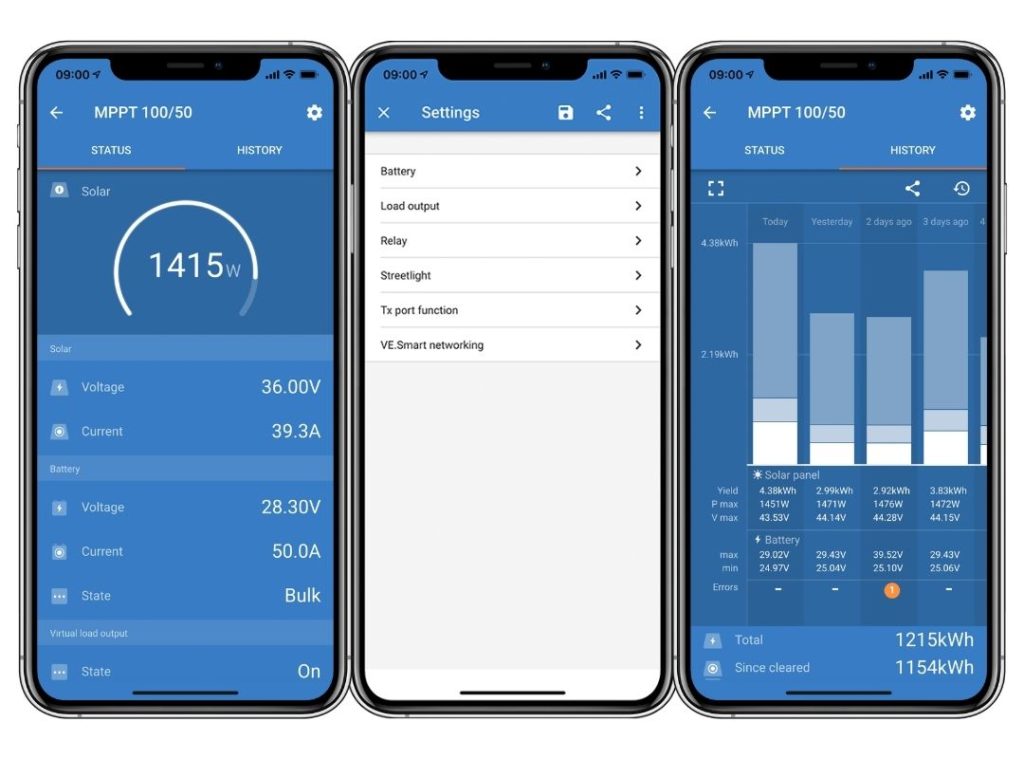 Fully Customizable Charging Profiles
In addition to system and monitoring, the Victron Connect app allows for full customization of the battery charging profiles. Set the custom float, absorption, equalization, temperature compensation, and much more to match the ideal charging parameters of YOUR battery bank.
Continuous Software Updates
The connection between the VictronConnect app and the Victron SmartSolar line of charge controllers also allows for firmware updates. Victron is constantly improving how their components function and when they find a software tweak that increases performance or adds a feature (like synchronized charging with multiple charge controllers), that update will be pushed out to the VictronConnect app so the charge controller can be updated.
MPPT Charge Controller: Maximum Power Point Tracking
The 'Maximum Power Point Tracking (MPPT)' functionality of the charge controller allows the software in the SmartSolar charge controller to auto-detect the best 'power point' of the solar array. MPPT means that the charge controller can alter the voltage and amperage of the solar array to put out the most power possible in variable conditions like days with big fluffy clouds moving across the sky.
5 Year Warranty
All Victron SmartSolar MPPT solar charge controllers come with a 5-year manufacturer's warranty. Although Victron components are built as an extremely high-quality unit built for harsh marine environments; it is still an electronic device with many internal components that can fail. In the event of a component failure, the SmartSolar line of charge controllers is covered by Victron with a 5-year warranty.
How to Wire a Charge Controller
Wiring Multiple Charge Controllers