Description
These custom-cut copper Lynx Adapters are designed to connect the Victron Lynx Distributor to the Victron BMV-712 Shunt and Master Disconnect.
This 3/4″ x 1/4″ Copper Bar is sized to connect two pieces of gear together as spec'd on the EXPLORIST.life wiring diagrams:
Victron BMV-712 Shunt to Negative Terminal of Lynx Distributor.
Master Battery Disconnect to Positive Terminal of Lynx Distributor.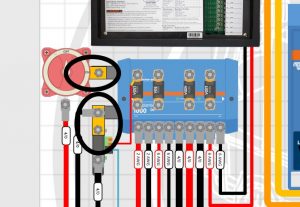 This product is for a either a single or a pair of Lynx Adapters so you can connect your BMV Shunt and/or the master battery disconnect to the Lynx Distributor.