This custom kit request form is for those of you who have purchased your Victron Components and Battle Born Batteries (or similar) already and need an EXPLORIST.life wiring kit assembled to meet your needs.
We already have options for complete wiring kits available, and we also feel that our Component Wiring Kits and Solar Charging Wiring Kit pages are very user intuitive to help you build your system. Still, if you need this personalized guidance, we can provide that for a fee that will go toward purchasing your kit. Disclaimer: If you choose not to buy your wiring kit from us, you will not be refunded, and if your kit does not total the deposit amount, you will not be refunded the difference. If your wiring kit costs more than the deposit amount (and it usually will), your entire deposit will go toward the price of the kit.
What you need to provide to us:
After your purchase, you must email your order number and the following list of components to info@explorist.life. Someone will reach out to you within 2 business days with additional information.
A list of main components you plan to use. We need each device's make/model/voltage to give an accurate recommendation.
Example: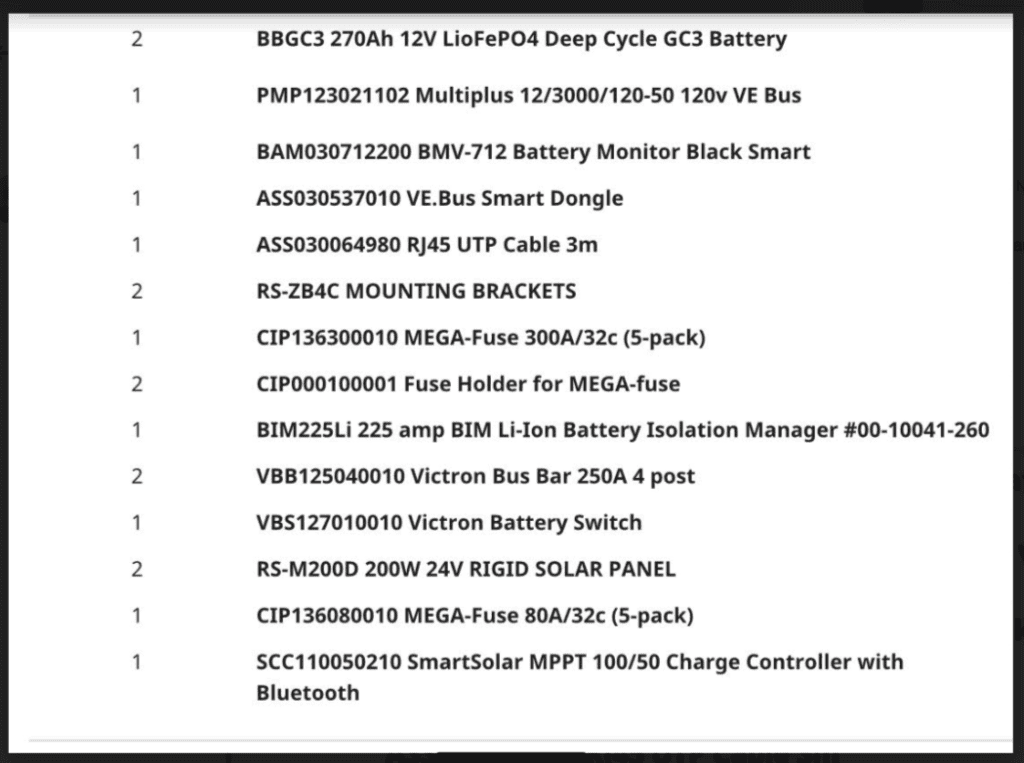 Managing Expectations:
We will be providing a variety of our Component Wiring Kits into a Complete Kit similar to what is found here that will meet your needs as closely as possible to the parts that you have provided.
You will NOT get a full custom wiring diagram. You WILL get a wiring diagram from our list of pre-made diagrams that is very close to your required needs and a written explanation for the changes that need to be made.
If there are items in your list that we deem will not be used, we will mark them off of your list, so you know what items you will have left over at the end of your build (This is typically small items like fuses).
If we do not have a kit for any of your specific components, we will mark that component off of the list and suggest a more appropriate component we have a kit for (common example: Battery Isolators).
We will build a kit around your major components (batteries, inverter, charge controller, etc). If you have already purchased wire/lugs/heat shrink, we will not consider those items when building our our kit for you.
Once your major components list has been submitted to us, we will not accept any changes, substitutions, or alternative options. Your components should be decided on previously, or we will choose the best option for your system.
Your personalized wiring kit will be finalized upon delivery to you and no revisions or changes will be allowed.
Your personalized EXPLORIST.life wiring kit will be available for purchase for 30 days after completion. You must purchase within this timeframe for your deposit to be applied to your order.